JOIN OUR 10-DAY COUNTDOWN TO PENTECOST CELEBRATION
Friday, May 27 through Sunday, June 5
LIVE/ON-CAMPUS in our Cornerstone Chapel/Gym-South Entrance
6:00am / Noon / 6:00pm
Each session will be for 1 Hour (60 Minutes)
Come for all or part of the 1-Hour Prayer Event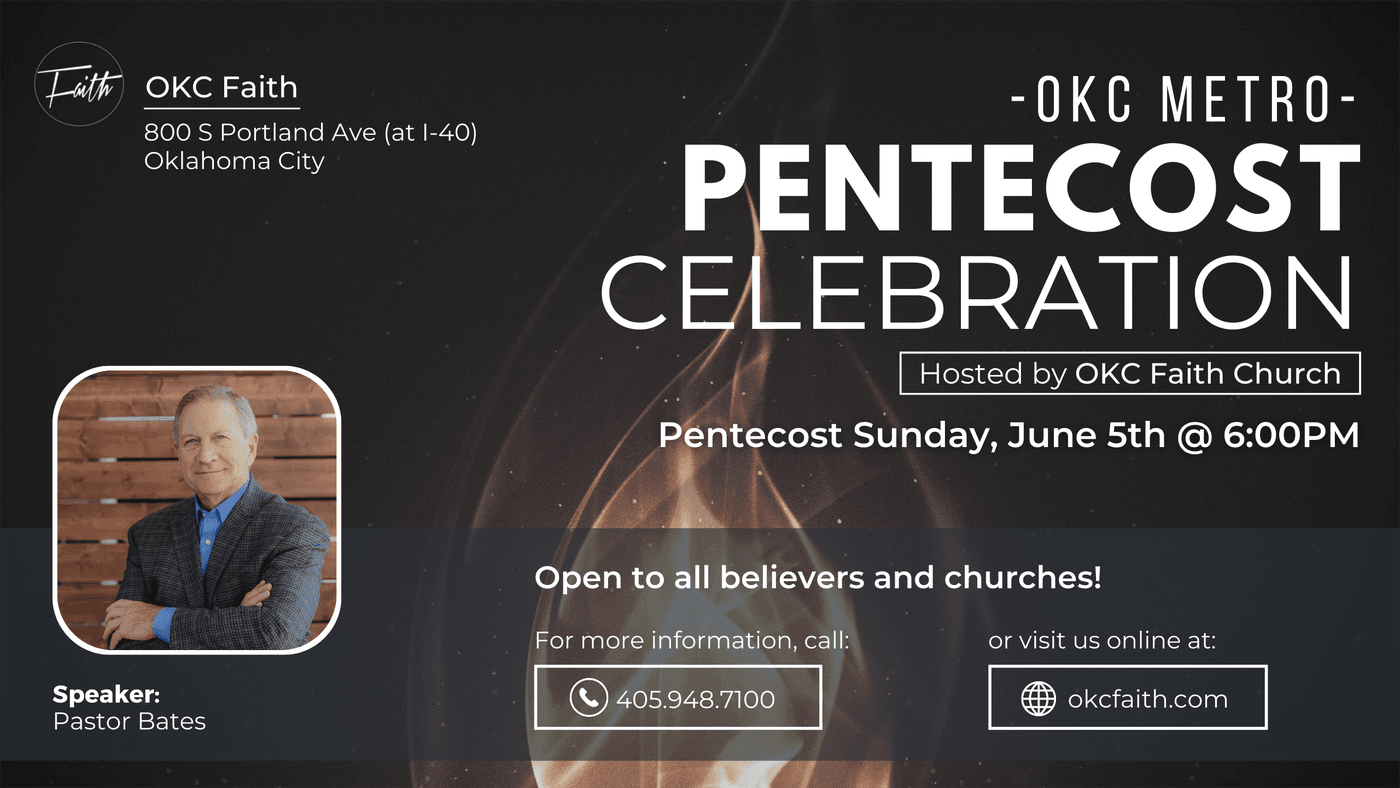 Listed Below are 100 different things you can specifically pray about during each of Prayer Event You Participate in –
And/or You can add your own/create your own list.
A Message from Pastor Bates:
Dear Faith Family and Friends,
Thank you for taking time to join the staff, elders and I in this critical 10-Day Countdown to Pentecost Sunday.
We know from Acts chapter 1, there were 120 Believers (men and women) who went directly from witnessing the Ascension of Jesus to the right hand of God the Father to the Upper Room to PRAY and PREPARE THEMSELVES FOR THE PROMISE OF THE FATHER (the Outpouring of the Holy Spirit upon all flesh).
When they first gathered in the Upper Room, they did not know how many days they would be there – they simply committed themselves to be "ALL IN" and to continue in Prayer and Preparation until they were filled with the Holy Spirit.
God's sovereign plan called for the Initial Outpouring of the Holy Spirit to occur during the FEAST OF PENTECOST, when Jerusalem would be filled with people from various nations coming to celebrate. What better way for God to Birth/Launch His New Testament (UNSTOPPABLE) Church than with this powerful demonstration of God's Power and Presence, resulting in 3,000 people accepting Jesus and people from different nations/languages hearing His Galilean Disciples declare the wonderful works of God in their various languages (by the unction, gifting, enablement of the Holy Spirit.)
As we enter into this 10-Day Countdown to Pentecost, I am asking you to join me in praying for a FRESH OUTPOURING OF THE HOLY SPIRIT upon each of our lives, our church and our region (we are inviting pastors and churches across the metro to join us on Sunday night, June 5 at 6pm for a CITY-WIDE CELEBRATION OF PENTECOST!).
I believe we are living in a critical time in which we are not only fighting for the souls of our loved ones and friends, but for the soul of our churches, our cities and our nations! THERE IS ONLY ONE CLEAR AND COMPELLING SOLUTION – A FRESH OUTPOURING OF THE HOLY SPIRIT!
In addition to praying for this special celebration, each day, join with me in praying over the various areas of prayer focus that we have provided or you may create – but most of all during each prayer time, as the Lord to PREPARE YOU FOR YOUR PERSONAL PENTECOST!
If you are able, PLEASE JOIN US ON CAMPUS for any of these IN-PERSON Prayer Events (whether one per day, or even just one out of the 30 different ones that will be conducted). I'm confident, God will respond to our prayer times with a Fresh Outpouring of His Holy Spirit, with signs, wonders and miracles! (Invite people to join us too!)
100 THINGS TO PRAY ABOUT DURING OUR
"10-DAY COUNTDOWN TO PENTECOST" CALL TO PRAYER
We encourage you to take time to spend a few seconds for each of the following Prayer Considerations – along with any additional personal/family prayer considerations.
Whether you join us on campus or pray in your home, feel free to sit, kneel or walk around, whatever you prefer; during our ONE-HOUR PRAYER EVENTS, Friday, May 27 - June 5 at 6am/Noon/6pm Cornerstone Room.
Pray for our City-Wide Pentecost Celebration, Sunday, June 5 at 6pm at OKCFAITH CHURCH!
Pray for a fresh outpouring of the Holy Spirit upon your personal life!
Pray for a fresh outpouring of the Holy Spirit upon your family and friends.
Pray for a fresh outpouring of the Holy Spirit upon our Church and each individual ministry.
Pray for a fresh outpouring of the Holy Spirit upon our pastors, staff, elders and entire congregation.
Pray for a fresh outpouring of the Holy Spirit upon every pastor, staff member, elder and church in our region!
Pray that God will allow OKCFAITH to be a new EPICENTER OF A SPIRITUAL AWAKENING (Spirit-Quake)!
Pray for all who may be battling with any form of sickness.
Pray for our Nation! (Division, Strife and Civil/Racial/Social Unrest to be replaced with National Unity)
Pray for our Economy! (Local, State and National; Jobs, Employers/Employees, Small Businesses)
Pray for our Nation's Health! (End of Covid-19 Virus; Flu Season, Sicknesses and Disease)
Pray for Firefighters/First Responders/Police Officers and Emergency Medical Teams
Pray for Medical Professionals (Nurses, Doctors, etc.) as well as Hospitals and Clinics
Pray for our Military (Active-duty, reserves, and veterans)
Pray for all of our Military Bases around the world (Protection from attack, etc.)
Pray for our Teachers/Schools and Students (Physical safety from sickness and violence)
Pray for the Protection of our Nation (from both domestic and foreign attacks/enemies)
Pray for our Church Families (Spiritual, Physical, Emotional, Relational, Financial Health/Prosperity)
Pray for our Church (The overall ministry effectiveness, especially our ability to reach the lost.)
Pray for our Lead Pastors- Pastor Bates, Robin, and their family
Pray for the church staff members and their spouses, along with their families
Pray for church leadership (board, elders) and families
Pray for each ministry team leader and each team ministry area
Pray for every ministry volunteer (ushers, greeters, nursery, Kids of Faith, etc.)
Pray the church's vision is ignited across the congregation
Pray against the financial attacks of the enemy against the church/church families.
Pray for new families to be drawn to the church (Spiritual, Physical, Financial, Relational, Emotional)
Pray for new volunteers to become engaged in the church's ministries
Pray for God to financially bless and increase His people
Pray for momentum (acceleration) in the fulfillment of our "FUTURE OF FAITH" (Souls and Building)
Pray for Sunday Morning Bible Classes and Small Group leaders and their classes/groups
Pray for greater ministry impact in the community through our outreach and compassion ministries
Pray for new ideas, creativity, and innovation regarding outreaches
Pray for God to show our church leadership new strategies for the church ministry
Pray for jobs for the unemployed (and for the under-employed)
Pray for those who struggle with life issues (hurts, habits, and hang-ups, unforgiveness, etc.)
Pray for increased sense of God's presence during worship/preaching and to become more Christ-like
Pray for an increased love for the Word of God (and your ability to read at least one verse each day)
Pray for God's financial provision in your personal life and/or your business
Pray to hear God's voice clearly in your life and for your spiritual maturity
Pray for the members of your family (both the saved and unsaved)
Pray for wisdom when facing problems and/or setbacks
Pray for spiritual discernment in hearing the Word or others who teach the Word
Pray for the greater OKC METRO and the surrounding towns/communities and our entire state
Pray for favor with city planning or zoning commissions for the Future of Faith
Pray for funding for the "Future of Faith" Construction projects
Pray for favorable materials costs for construction projects and facility repairs
Pray for the church to be elevated (respected and favored) in the city
Pray your life will cross the path of those who need God
Pray for all of the churches in the OKC METRO and surrounding communities to become more evangelistic
Pray for missionaries which our church supports (as well as those who still need our support)
Pray for those who lead worship in our church both vocalists and musicians
Pray for our Latino Ministry Congregation and Ministry
Pray for our Latino Ministry Pastors (Pastor Janys and Paul Esparza)
Pray for the Latino Community in Oklahoma City and our ability to reach them
Pray for the Kids of Faith children's ministry of the church
Pray for our Kids of Faith Place Daycare Children, Families and Teachers/Workers
Pray for the OKC FAITH CHURCH youth/student ministry of the church
Pray for the OKC FAITH CHURCH young adults/couples of the church (Next Gen/Bridge Generation)
Pray for the OKC FAITH CHURCH single adults of the church
Pray for the OKC FAITH CHURCH married couples of the church
Pray for the OKC FAITH CHURCH senior adult ministry (Singles and Married Couples) of the church
Pray for the Music/Media Ministries of Faith Church
Pray for revival across the nation, in our communities, our families and in our personal lives.
Pray for our President, Vice-President, Congress, and the Supreme Court
Pray to be strong against temptation
Pray for those with life controlling problems (addictions and other bondages)
Pray for boldness in your testimony as a believer
Pray for those who have become disillusioned with ANY church to return BACK TO CHURCH
Pray for parents and grandparents whose children/grandchildren have strayed
Pray to be more sensitive to God's promptings and leadings in your life
Pray for God to show you how to use your testimony more effectively
Pray for all daycare centers – name as many as possible (workers, children, and parents)
Pray for all elementary schools – name as many as possible (teachers, children, and parents)
Pray for all Jr. High Schools – name as many as possible (teachers, students, and parents)
Pray for all High Schools – name as many as possible (teachers, students, and parents)
Pray for all Junior Colleges and Technical/Trade Schools – (teachers, students, and parents)
Pray for all Colleges and Universities – name as many as possible (teachers, students, and parents)
Pray specifically for all Christian Colleges and Universities – name as many as possible
Pray for the Bible-Believing Churches and all new Church Planting efforts to reach new people
Pray for all Pastors, Staff Members, Ministry Leaders of other churches
Pray for State/Federal Senators, Congressmen, Governors
Pray for Single Parents (Moms, Dads, Widows, Divorced, or Never married)
Pray for the incarcerated and their spouse/children (Prisons, Jails, Juvenile Hall)
Pray for the institutionalized (medical, mental, physically incapacitated, etc.)
Pray for the Small Business Owners (Home-based, Internet, Brick/Mortar)
Pray for Large Businesses/Managers/CEOs/Employees
Pray for the Homeless (Living on the Street, or in Shelters) and Homeless Shelters (Church Under the Bridge)
Pray for Israel's peace, prosperity, and protection
Pray for Faith Church Television Ministries/Radio Ministries/ONLINE/Internet-Media Ministries
Pray for those who are grieving the loss of a loved one, family member or friend.
Pray for the protection of the UNBORN CHILDREN in their mother's womb.
Pray for the vulnerable children, teens and women who are targets for "sex trafficking."
Pray for unprecedented signs, wonders, miracles, and healings to be released in our world for these last days.
Pray for the Gifts of the Spirit to be unleashed in our worship experiences.
Pray for the Fruit of the Spirit to be unleased in our daily lives.
Pray for a NEW ANOINTING of the Holy Spirit for the New Season we are entering.
Pray for Spiritual Breakthroughs in every situation/stronghold.
Pray spiritual passion and zeal to increase significantly
Pray "THY WILL BE DONE," not "MY WILL BE DONE!"